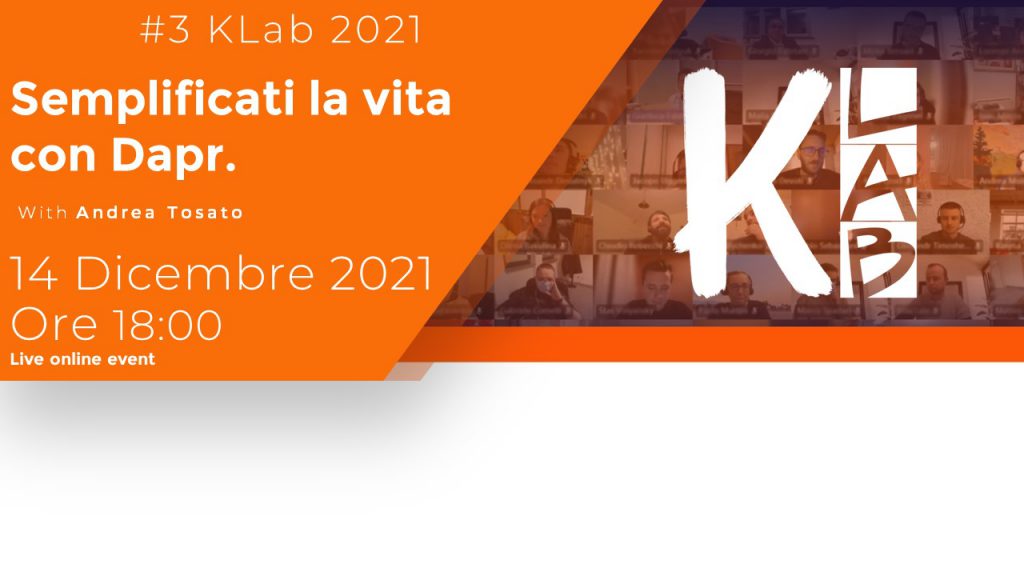 Ritorna il KLab con un nuovo evento online, interamente dedicato allo sviluppo di applicazioni distribuite.
Quando? 14 Dicembre 2021.
Agenda:
18:00 Welcome
18:05 Andrea Tosato – "Semplificati la vita con Dapr."
Sviluppare applicazioni distribuite non è affatto facile, molto spesso ci accoppiamo a strumenti proprietari o presenti in un particolare Cloud provider.
Lo sviluppo quasi sempre è complicato perché è necessario replicare, in parte o interamente, l'ambiente di produzione, e la conoscenza di Kubernetes è spesso uno scoglio.
Vorresti partire con qualcosa di semplice perchè non si sa mai cosa possa volere il cliente?
DAPR, è una delle possibili risposte, e la sua descrizione recita:
Dapr helps developers build event-driven, resilient distributed applications.
Whether on-premises, in the cloud, or on an edge device, Dapr helps you tackle the challenges that come with building microservices and keeps your code platform agnostic.
Durante la serata vedremo un paio di esempi applicativi, il rilascio su Docker, Kubernetes e se avanza tempo lo vedremo su "Azure Container Apps" il nuovo servizio in preview su Azure.
18:50 Q&A with the speaker
Link per partecipare all'evento.
Who is our guest?
Software Architect di HUDI, Andrea Tosato è uno sviluppatore web, servizi e desktop in ambiente Microsoft.
Specializzato in C#, ASP NET, ASP .NET Core e Azure, è MVP Azure dal 2019 e co-fondatore di Cloudgen Verona, oltre che speaker in numerosi eventi di community.